Imagine living in a Vastu compliant space where positive energy flows effortlessly, bringing balance, peace, and prosperity into your life. Vastu Shastra is an ancient Indian science that harnesses the power of design and placement to create harmony in our living spaces.
At True Habitat, we believe in the transformative power of Vastu compliance. As the popularity of Vastu Shastra continues to grow, we are dedicated to creating homes that not only embody architectural excellence but also embrace the principles of Vastu for the holistic well-being of our residents.
By aligning our living spaces with natural forces and energy patterns, we can tap into a multitude of benefits that enhance our well-being, relationships, and overall success. From health and prosperity to harmonious relationships and increased productivity, the impact of Vastu compliance is truly remarkable.
In this blog, we will delve into the realm of Vastu-compliant homes, uncovering the secrets to creating an environment that nurtures and uplifts every aspect of our lives. True Habitat aims to provide you with not just a home, but a sanctuary of positive vibrations and abundant possibilities.
Let us first understand what a vastu-compliant house means.
What is Vastu compliance?
Vastu Shastra, the ancient Indian science of architecture and design, offers profound insights into creating harmonious living spaces. To fully appreciate the benefits of Vastu-compliant homes, it's essential to understand the principles and concepts that underpin this ancient practice.
At its core, Vastu Shastra focuses on the interplay of energy, known as "prana," and how it influences our well-being and success. By aligning our living spaces with the natural forces and energy patterns, we can enhance the flow of positive energy, creating an environment that supports and nourishes us on multiple levels.
The principles of Vastu Shastra emphasize the importance of balance and harmony in our surroundings. It takes into account various factors such as the direction and placement of rooms, the positioning of doors and windows, and the selection of colors and materials. By adhering to these guidelines, we can optimize the energy flow within our homes, fostering a sense of tranquility and vitality.
One fundamental aspect of Vastu compliance is the concept of the five elements: earth, water, fire, air, and space. Each element holds unique qualities and influences specific areas of our lives. By understanding and incorporating these elements into our living spaces, we can create a harmonious environment that resonates with our goals and aspirations.
Another crucial aspect of Vastu compliance is the significance of the directions. Each direction has its own energetic attributes and corresponds to different aspects of our lives, such as health, wealth, and relationships. Properly aligning rooms and furniture with these directions can optimize the flow of energy and amplify the positive influences in our lives.
Advantages of Vastu compliant home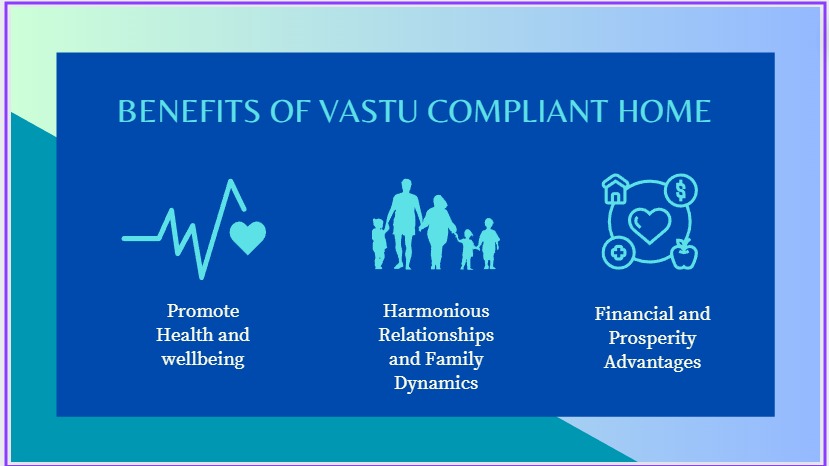 There are various benefits of a Vastu-compliant home which are as follows:
Health and Well-being Benefits
Living in a Vastu-compliant home offers a range of health and well-being benefits, promoting physical vitality and mental equilibrium. By aligning our living spaces with Vastu principles, we can optimize the flow of positive energy and create an environment that nurtures our overall well-being. Here are key factors that contribute to the health and well-being benefits of Vastu-compliant homes:
Proper placement of rooms and furniture to enhance energy flow and support physical health.
Ample natural light and ventilation for a fresh and rejuvenating living environment.
Use of eco-friendly materials that reduce exposure to toxins and allergens, improving respiratory health.
Thoughtful selection of colors and decor to create a soothing and calming atmosphere.
Incorporation of elements of nature, such as indoor plants, to purify the air and promote a connection with the natural world.
Reduction of stress and anxiety through the harmonious arrangement of spaces and calming design principles.
Enhancement of sleep quality and relaxation through Vastu-aligned bedroom positioning.
Promotion of mental clarity, focus, and emotional balance through a balanced energy flow.
Nurturing a sense of peace, harmony, and overall holistic well-being.
Harmonious Relationships and Family Dynamics
A Vastu-compliant home can significantly impact the dynamics of relationships within a family, fostering harmony, understanding, and nurturing bonds. By aligning our living spaces with Vastu principles, we can create an environment that promotes positive communication, emotional well-being, and love among family members. Here are key factors that contribute to harmonious relationships in Vastu-compliant homes:
Placement of bedrooms in the appropriate directions to enhance intimacy and strengthen relationships.
Designing common areas, such as the living room or dining area, to encourage family interactions and bonding.
Creating a peaceful and serene space for meditation or prayer to promote spiritual connections within the family.
Utilizing colors and decor that evoke feelings of love, warmth, and unity.
Arranging furniture to facilitate open and comfortable communication between family members.
Incorporating elements of nature and natural light to create a refreshing and rejuvenating atmosphere.
Establishing designated spaces for quality family time, such as a recreation room or a garden area.
Maintaining a clutter-free environment to minimize stress and promote a sense of calmness within the family.
Practicing Vastu principles for the placement of family photos and personal memorabilia to evoke positive emotions and memories.
Financial and Prosperity Advantages
By embracing Vastu principles, we can create an environment that supports financial well-being and attracts opportunities for prosperity. Here are key factors that contribute to the financial and prosperity advantages of Vastu-compliant homes:
Placement of the main entrance and the location of the wealth corner (typically in the southeast) to invite positive energy and abundance.
Proper positioning of the study or home office to enhance focus, productivity, and career success.
Use of colors and decor that symbolize wealth and prosperity, such as shades of green, gold, and purple.
Incorporation of symbols of prosperity, such as images of prosperity deities or auspicious objects.
Creating a clutter-free and organized space to promote a clear and abundant mindset.
Enhancement of business prospects and opportunities by aligning the entrance and layout of commercial spaces with Vastu principles.
Utilization of Vastu principles for selecting and designing spaces for financial transactions, such as a cash counter or home office.
Optimization of financial investments and wealth creation through Vastu-aligned placements of safes or lockers.
Encouragement of a positive and abundant mindset through the integration of meditation or prayer spaces within the home.
Conclusion
Embracing Vastu compliance in our homes offers a multitude of benefits that go beyond mere aesthetics. True Habitat, as a leading real estate company specializing in Vastu-compliant residential and commercial projects, understands the profound impact a harmonious living space can have on our lives. From improved health and well-being to enhanced relationships, financial prosperity, and overall balance. Vastu-compliant homes crafted by us provide an opportunity to create a sanctuary that supports your holistic growth.