In today's rapidly evolving world of real estate, developers are constantly seeking innovative ways to enhance the residential experience. One such game-changer in residential developments is the integration of hi-street commercial spaces. These spaces not only add value to residential projects but also transform the way communities function and thrive.
At TrueHabitat, a leading real estate developer in Gurgaon, we understand the significance of creating living spaces that go beyond the conventional. Our vision extends beyond constructing residential buildings; we aim to create a harmonious balance between nature and human lifestyles. By incorporating advanced sustainable technologies, we strive to provide a lifestyle that our patrons can be proud of.
We firmly believe that small steps lead to significant changes, and our foray into hi-street commercial spaces is one such stride towards redefining residential developments. Through this blog, we aim to explore the impact of hi-street commercial spaces on our projects and shed light on how they contribute to creating vibrant, sustainable communities.
Benefits of Hi-Street Commercial Spaces in Residential Developments
Enhanced Convenience and Accessibility: Incorporating commercial spaces within residential developments bring essential amenities and services closer to residents' doorsteps. The proximity of shops, restaurants, cafes, and grocery stores within walking distance saves time and effort for residents, providing them with convenient access to their daily needs.
Economic Opportunities for Local Businesses and Entrepreneurs: Hi-Street commercial spaces create a platform for local businesses and entrepreneurs to thrive. They offer a ready customer base from the adjacent residential community, fostering economic growth and supporting the local economy. Small businesses can establish themselves in these spaces, benefiting from the regular flow of residents and visitors.
Creation of Vibrant and Livable Communities: Hi-Street commercial spaces contribute to creating vibrant and lively communities. They serve as social hubs, bringing people together and fostering a sense of belonging. Residents engage in social interactions, meet neighbors, and participate in community activities, enhancing the overall quality of life.
Increased Property Value and Investment Potential: Integrating commercial spaces in residential developments significantly increase property values. The presence of well-designed and well-managed commercial areas attracts potential homebuyers and investors, leading to higher demand and appreciation in property prices. This added deal benefits both homeowners and the community as a whole.
Promoting Sustainable Transportation and Reducing Traffic Congestion: Hi-Street commercial spaces encourage sustainable transportation practices. With convenient access to amenities, residents are more likely to walk or cycle, reducing reliance on private vehicles. This shift contributes to reducing traffic congestion, improving air quality, and promoting a healthier and more sustainable living environment.
Diversification of Lifestyle and Entertainment Options: Hi-Street commercial spaces offer a diverse range of lifestyle and entertainment options. Residents enjoy a variety of dining experiences, entertainment venues, fitness centers, and cultural activities within their immediate vicinity. This diversity enriches residents' lives, providing them with a wide array of choices and experiences without the need to travel far.
Community Safety and Security: Well-designed Hi-Street commercial spaces often include security measures such as surveillance cameras, well-lit areas, and trained security personnel. This contributes to creating a safe and secure environment for residents, enhancing their peace of mind and sense of safety.
Fostering Social and Cultural Integration: Hi-Street commercial spaces provide opportunities for social and cultural integration. They often host community events, festivals, and celebrations, promoting interactions between residents of different backgrounds and fostering a sense of unity and diversity.
Economic Advantages for Developers and Local Businesses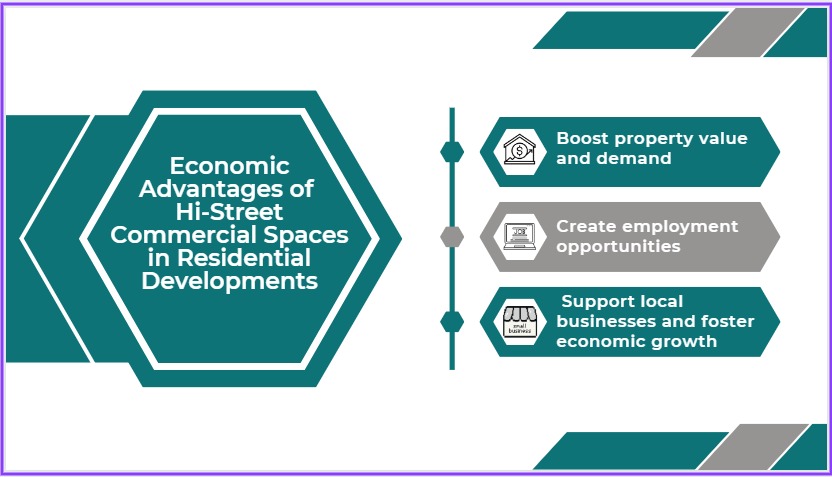 Developers and local businesses alike stand to benefit significantly from the integration of hi-street commercial spaces within residential developments. This symbiotic relationship creates a win-win situation that fosters economic growth and prosperity. Let's explore the key economic advantages that these commercial spaces offer:
A. Boosting property value and demand:
Hi-street commercial spaces add value to residential projects by creating a dynamic and diverse environment. The presence of well-planned commercial areas within the development enhances the overall appeal of the property, attracting potential buyers and tenants. The convenience of having essential services, retail outlets, and entertainment options within walking distance increases the desirability of the residential units, resulting in higher property values and increased demand.
B. Creating employment opportunities:
Hi-street commercial spaces generate a multitude of job opportunities for the local community. These spaces become a hub for entrepreneurial ventures and employment, from small businesses and retail shops to restaurants and service providers. The presence of commercial establishments within a residential development not only brings convenience to residents but also creates a source of livelihood for the local workforce. This boosts the local economy and contributes to the overall prosperity of the area.
C. Supporting local businesses and fostering economic growth:
Hi-street commercial spaces provide a platform for local businesses to thrive and grow. Small retailers and entrepreneurs get the opportunity to establish their presence and cater to the needs of the community. This, in turn, leads to increased patronage and support for local businesses, creating a vibrant ecosystem of commerce. The economic activity generated by these businesses contributes to the overall economic growth of the region, stimulating trade and fostering entrepreneurship.
Challenges and Mitigation Strategies
Implementing Hi-Street commercial spaces in residential developments presents certain challenges that need to be addressed for successful integration.
Challenges:
Balancing the mix of commercial and residential needs: Finding the right balance between commercial establishments and residential units can be challenging. It is crucial to ensure that the commercial spaces enhance the residential experience without overwhelming it.
Addressing concerns related to noise: Commercial activities can generate noise, which may affect the quality of life for residents.
Managing parking and traffic: The introduction of commercial spaces may increase the demand for parking and lead to congestion.
Mitigation Strategies:
Comprehensive planning and zoning regulations: Implementing clear planning and zoning regulations that define the appropriate mix and scale of commercial spaces within residential developments can help strike a balance between the needs of residents and businesses.
Soundproofing and design considerations: Incorporating soundproofing measures during the design and construction phase can help minimize noise transmission from commercial spaces to residential areas. Designing commercial spaces with acoustic materials and buffer zones can also mitigate noise-related concerns.
Adequate parking and transportation planning: Developing sufficient parking facilities and implementing effective transportation management strategies, such as encouraging the use of public transportation, promoting carpooling, or providing dedicated parking zones for residents and visitors, can help alleviate parking and traffic challenges.
Community engagement and communication: Engaging with residents and involving them in the planning and decision-making process can help address concerns proactively. Regular communication channels can be established to keep residents informed about any potential disruptions or changes related to commercial spaces.
Monitoring and enforcement: Implementing mechanisms to monitor and enforce regulations regarding noise levels, parking, and traffic can ensure compliance and maintain a harmonious living environment.
Flexibility and adaptability: Being open to feedback and making necessary adjustments based on the evolving needs and preferences of residents and businesses can help ensure the long-term success of Hi-Street commercial spaces in residential developments.
Conclusion
Hi-street commercial spaces are game-changers in residential developments, redefining the way we live, work, and connect within our communities. At TrueHabitat, we understand their economic significance and the positive impact they bring.
These spaces boost property value, attract buyers and tenants, and create employment opportunities for the local community. They also foster a vibrant atmosphere, promoting social interaction and community engagement.
TrueHabitat is committed to creating sustainable living spaces that restore the balance between nature and humans. By integrating hi-street commercial spaces, we provide a lifestyle that our patrons can be proud of.